Founded by Mrs. Laura Thorn, Thorn BioScience LLC company has been located in Kentucky, since 1995.
Its original and continuing mission is to develop breakthrough commercial veterinary products for use in reproductive management, therapeutics, and vaccines of domestic animals. These products are a continuation of work initiated by Thornbrook Farm's New York Reproductive Research and Development Laboratory, an international leader in equine reproductive research in its own right and by virtue of its support of research at leading universities.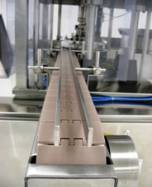 In addition to veterinary drug development, Thorn BioScience LLC offers a range of contract clean room services, primarily to pre-clinical and phase I drug companies. These services include cGMP custom peptide manufacturing and aseptic sterile filling.
Bibliography of Recent Research Papers
Other CreoSalus Companies include

From its manufacturing facility in Louisville, KY, Advanced ChemTech offers:
Custom peptides
Unusual and Standard Amino Acids
Resins and Pre-load Resins
Bulk Pricing and Scale-up Services
Reagents

Originally founded as a human medical devices company, Thuramed offers a full line of  state-of-the-art:
Peptide/DNA synthesizers
Analytical instruments
Purification instruments